Name:
Honi.
Age:
20.
Race:
Psyker.
Gender:
Male.
Karma:
Good.
Faction:
Wildcard (Previously Tribal)
Reputation:
SPECIAL:
•
Strength:
4
•
Perception:
7
•
Endurance:
5
•
Charisma:
7
•
Intelligence:
8
•
Agility:
3
•
Luck:
6
Level:
1.
Perks:
Floramancy, Biomancy
Height:
5'4.
Weight:
180 lbs.
Body type:
Fat.
Hair style:
Has long, dark, curly hair. Often tied back
Eyes:
Green.
Skin color:
Dark brown, with raised, greenish, vein-like streaks up and down his body. They're most visible on his chest, back, forearms, and around his neck and face.
Other:
Has a shoulder sleeve tattoo on his left shoulder composed of floral designs and geometric patterns.
Image: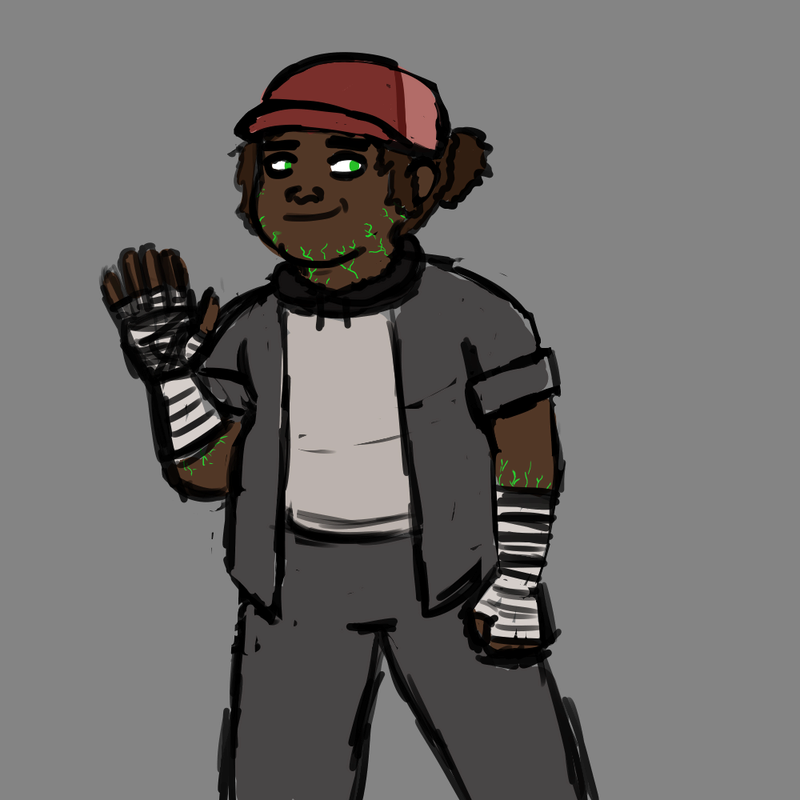 Psychical Description:
Is good-natured and a little naïve. Is easily swayed by first impressions. He mostly keeps to himself, but doesn't hesitate to speak up when he thinks he can help.
Inventory
:


Main Weapon: Plasma Pistol

Secondary Weapon: Machete

Helmet: None

Mask: None

Goggles: None

Clothes: Army fatigues with the shirt unbuttoned.

Armor: None

Backpack: Plain Hiking pack

First Accessory: Bandages wrapped around his hands and forearms

Second Accessory: A tattered hood and baseball cap

Other:

Defect of the Character:
Is unaccustomed to the harsh life of the wasteland, and has no stomach for killing. In addition to not having been hardened by the outside world, he has a strong sense of curiosity can sometimes overwhelm his sense of self-preservation.
Aspirations:
To establish a name for himself as a healer, perhaps even learn medicine and be a doctor.
Other details:
Does jobs to try and help people, only cares about caps because he seems to need them to buy basic necessities. Is fond of books, especially those about history, or medicine. Believes his psyker powers come from the worship of spirits.
Background story:
Honi lived a sheltered life of privilege in the village of Kameoka, hidden deep in the jungles of Moloka'i. His family had served as their people's kahunas for generations. The people of the village looked to them for guidance for only they had the ability to commune with the jungle's plants to hide and protect their village, and to mend the villagers' wounds with their prayers. It was their knowledge of plants and poisons that allowed them to counteract the effects of the otherwise toxic air.
As the next in line to become tribe leader and kahuna, most of his time was spent training his powers, learning how to settle disputes, and being taught what their tribe knew of history and medicine. He was even given access to what few books the tribe had kept from before the war, his focus always lingering on mentions of other places in the world. What did not interest him however, was his duty as a kahuna to take a wife and have a son.
As years passed, Honi's interest in what lay beyond Kameoka grew, and his parents' patience with him grew thin. When they told him that they had chosen a wife for him, and that they were forcing him to marry her, Honi decided that this wasn't the life for him. In the dead of night, he left the village carrying what supplies he could, including medicines and concoctions to keep him from succumbing to the jungle's toxic spores, as well as the tribe's treasured plasma pistol, a relic of the tribe's founder.
After fast-talking the sentries on duty, he began to move away from the safety of Kameoka, relying on his ability to know which fruit were safe to eat to keep himself fed, and his plasma pistol to scare away the wildlife. As he neared Molokai's shore, he came across a horrific scene: A number of uniformed men and women lying face down and bleeding on the narrow beach next to a large seaplane, crashed in the sand, missing one of its two engines.
Honi ran from person to person trying to heal them, but they were all too far gone. All but one. She was an older woman, in the same grey fatigues as the others, but she managed to just barely cling to life as Honi began to mend her wounds. When she recovered, she could scarcely believe she was saved by a pudgy, magic, tribal boy, but a debt was a debt. After doing what they could to repair the ship, the woman agreed to take him to civilization, advising him to be careful who he used his abilities around and that he should wear clothing that did not consist of a loincloth. She did not however, tell him what happened on that beach in Moloka'i. They parted ways when they reached Oahu, where he decided to see if he could put his skills in healing and herbalism to good use.